Elvis Grbac, Todd Collins, Scott Dreisbach, Brian Griese, Tom Brady, Drew Henson, John Navarre, Chad Henne, Ryan Mallett, Nick Sheridan, Steven Threet, Tate Forcier, Denard Robinson, Devin Gardner, Shane Morris.
Those are all of the Michigan quarterbacks that I remember in my lifetime (being born in 1987), and as I love to rank things, I figured that putting all of them in order based on their contributions to Michigan football as I've grown up would be an amusing way to spend the evening. There are 15 of them in all.
Since age and context play such an important role in memory, I've tried to do as little research as I can possibly get away with, while still having a somewhat objective list. As much as possible, my criteria stays away from stats (freshman starters and passing offenses make it pretty much worthless to make comparisons in this way), and instead focus on memorable moments, individual performances, and famous wins. The other aspect here is how I personally related to each of these players at different ages and awareness levels throughout my life, seeing these guys first as superheroes, later as famous classmates and peers, and now as 'kids', and fluctuating between naivety and cynicism at every stage.
That's probably all the pretext that's necessary, so without further ado, here is my ranking of every starting Michigan QB that I've ever watched, as well as my clearest memories of them. I'll start with just numbers 15 through 11 tonight.
15. Shane Morris (2013-current)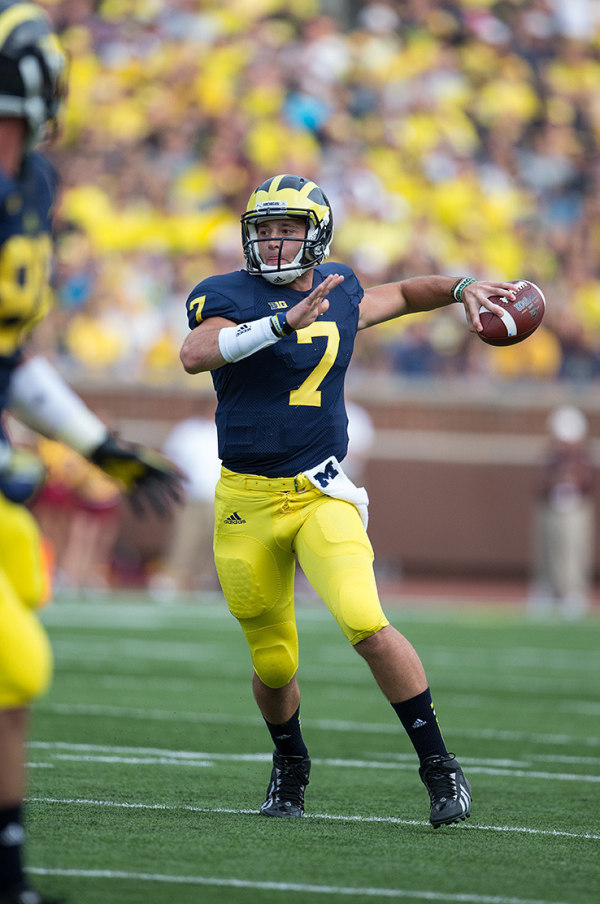 Shining moment:
-Getting that concussion against Minnesota, ultimately sealing Brady Hoke's and Dave Brandon's collective fate.
What I think:
Shane still has 2 years or so to potentially rise on the list, but as it stands, the guy has unfortunately done zilch as a UofM QB. No wins, no great plays, not even a single touchdown pass yet.
14. Nick Sheridan/13. Steven Threet (2008)
Shining moments:
- (Sheridan) Leading a touchdown drive on the first possession of the Rich Rod era.
- (Sheridan) @Minnesota '08, a surprisingly competent showing in a 29-6 win.
- (Threet) '08 Wisconsin second half comeback
What I thought when I was 21:
Sheridan simply isn't talented enough to be playing Division 1 football, let alone starting in the Big 10 (back when it was the Big 11). Threet actually has some skills and decent composure, but is in the worst possible offensive system for his relative strengths.
In hindsight:
Sheridan and Threet. As the Michigan stadium PA guy says about 'Temptation' and 'Hawaiian War Chant', "because you can't have one without the other". They'll be forever linked as far as Michigan football goes for their role during the Rich Rod disaster. Sheridan was the opening day starter, but I still think Threet was better and certainly a different caliber of player than Sheridan, which people don't always seem to realize. Threet, after all, did go on to become Arizona State's starting QB after leaving the Rich Rod regime.
12. Devin Gardner (2010-14)
Shining moments:
-'13 Notre Dame 'Under the Lights 2'®
-'13 The 42-41 Ohio State game
-'13 Back to back 4th quarter comebacks against Akron and UCONN (sorry, that was mean)
What I thought 2 years ago:
While less exciting than the incomparable Denard, "New 98" was poised to become a more consistent dual threat QB, ending the era where every run was an adventure, and every deep pass was a different type of adventure.
In hindsight:
I feel bad for talking shit about Devin, but the hard truth is that his most productive and mistake-free football for the Wolverines came when he was playing receiver, and his best quarterback play happened when he was the most out of practice (switching back from receiver in the middle of 2012). The near-upset of OSU notwithstanding, his remaining two years was a long and maddening downfall where potential and talent slowly become irreconcilable with reality and results. Due to how much worse his backups were, Devin was still basically unbenchable even after his confidence was completely shattered. Maybe that was some sort of justice from the football gods for getting a phony medical redshirt and essentially playing 5 years.
11. Ryan Mallett (2007)
Shining moments:
- 07' Notre Dame shellacking
- 07' win over Top 10 Penn State
- 07' Randomly sitting at my breakfast table in West Quad, allowing me to eavesdrop on him bragging to his buddy about partying in Canada the previous weekend (this was in-season, the week before the Ohio State game, if memory serves)
What I thought when I was 20:
Mallett was the first Michigan quarterback to be younger than me, and arriving in Ann Arbor right around the same time as I did, he was the first player on this list who I looked at as an actual person, rather than the larger than life heroes or bums that I only saw on TV previously (even being just 2 years older than me, Henne fell into the latter category in my mind). Mallett was also the first one that I would 'hear stories' about, from people who had some sort of interaction with them around campus. I can't say for certain whether any of the following stories are actually true, but as they say, perception is reality.
Here is a pretty good cross-section of my perception of Ryan Mallett as a person at that time:
- One of the frat boys from Beta who was on my freshman hall partied with Mallett a few times when he early-enrolled, and 'loved him', despite the majority of everyone else seeming to find him a pretty arrogant and unlikable guy. Beta got kicked off of campus that Spring, by the way.
- Occasionally tried to pick up girls at the Steve and Barry's by lurking near a crate of foam footballs and throwing the footballs at the girls to get their attention.
- Lloyd Carr once called him into the coaches office and told Mallett, "I don't like anything about you".
In hindsight:
The guy had a howitzer for an arm, won some games in his few starts, hard to blame him for ditching Rich Rod, ended up having a great career at Arkansas. I still don't really like anything about him though.
I'll try to have the Top 10 done sometime before Saturday.